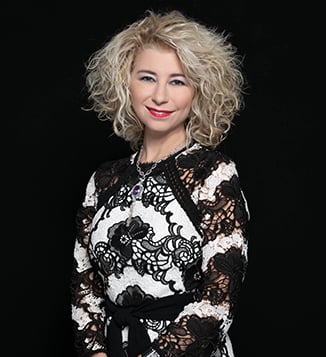 About
Dr. Flora Katsnelson
Organization
Founder of USA Vein Clinics, USA Vascular Centers, USA Fibroid Centers and USA Oncology Centers
Biography
Dr. Flora Katsnelson is a co-founder and strategic advisor of the USA Clinics Group, the parent company of USA Fibroid Centers, USA Vein Clinics, USA Vascular Centers, and USA Oncology Centers. She is a talented physician, respected executive, experienced business owner, charitable philanthropist, and proud mother. Dr. Katsnelson recognized an extraordinary need for convenient and affordable outpatient medical services. Her experience allowed her to understand what other healthcare organizations were lacking and provide unparalleled empathetic care to patients in need.
Background and Experience
Dr. Katsnelson was born in the former Soviet Union and lived in Ukraine, Poland, Austria, and Italy before she chose to establish in the United States. Shortly after her arrival, she attended the University of Chicago and received magna cum laude with honors at her graduation. She completed her medical education at the top-rated Sackler School of Medicine with rotations at the Brigham and Women's Hospital/Harvard Medical School in Boston, University of Chicago Hospitals, as well as countless hospitals in Israel. She finished her residency at Mount Sinai Medical Center in Chicago, where she has established a renowned presence.
After her extensive training, Dr. Katsnelson founded the Northwest Health Institute, which is dedicated to providing high-quality, efficient, and personalized primary care services.
Philanthropy and Accolades
Dr. Katsnelson has always had a passion for charitable work and philanthropy. Her desire to give back motivated her to become a member of the international board of the Save A Child's Heart Foundation and the president of its Chicago chapter. Additionally, she has been a member of the American Medical Association, American College of Physicians, American Vein and Lymphatic Society (formerly the American College of Phlebology), and other highly regarded medical societies and organizations. As a recipient of many awards, she has been recognized in the Cambridge Who's Who, an acclaimed New York publication highlighting impressive career achievements.
Dr. Katsnelson is dedicated to expanding research and education. She has participated in research projects in various medical fields including endocrinology, gastroenterology, and cardiovascular medicine. Just a few of her numerous achievements include authoring and co-authoring medical and scientific publications, as well as training medical students and residents. Dr. Katsnelson's knowledge, expertise, and patient care has made her a leader in the healthcare industry.