You've recently been diagnosed with peripheral artery disease (PAD), a common vascular condition where plaque accumulates with the arteries. Depending on the severity of your PAD, you may experience decreased mobility and painful symptoms. Your doctor gave you pamphlets and information about various treatments, but it feels overwhelming and confusing. It's especially confusing trying to decipher the differences between non-surgical options like an angioplasty or atherectomy procedure.
Thankfully at USA Vascular Centers, we understand your frustration and want to clarify what options you may have when it comes to treating peripheral artery disease. Dr. Yan Katsnelson explains what an atherectomy procedure entails to help you better understand your treatment options.
What Does Atherectomy Mean?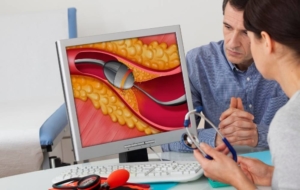 There are many different surgical and non-surgical treatments that can be used to treat peripheral artery disease. One of your options may be an atherectomy procedure, where a laser or rotational tool is navigated through your arteries to the blockage. Once at the blockage, a vascular specialist would use various minimally-invasive techniques to remove the plaque buildup from the narrowed artery, so blood can move freely throughout your body, especially your peripheries (buttocks, thighs, calves, and feet). Atherectomy for peripheral vascular disease treatment can be effective if you have moderate to severe PAD and are experiencing symptoms or limited mobility.
Wondering what to expect after an atherectomy procedure? Check out our full treatment page here.
Types of PAD Atherectomy Procedures
Yan Katsnelson, M.D., explains there are four different kinds of atherectomy procedures: laser, rotational, orbital, and directional. The severity of your arterial blockage as well as the vascular specialists' expertise will determine which type of atherectomy device they will be able to offer.
Laser Atherectomy
Laser atherectomy to treat PAD utilizes a tiny catheter (less than 1mm in diameter) that emits a high-energy light beam to clear plaque accumulation within a partially or fully blocked artery. The catheter is maneuvered through the vessel until it reaches the blockage. Laser energy is used to vaporize the blockage within the blood vessel, allowing blood rich in oxygen and nutrients to flow through your legs and feet.
Laser atherectomy devices are considered non-surgical because vascular specialists use live ultrasound guidance to navigate through the arterial system.
Rotational Atherectomy
During a rotational atherectomy, a vascular specialist navigates a catheter fitted with a Rotablator™ device on the tip (looks similar to a football shape) to where the blockage is located. The tip of the Rotablator™ rotational atherectomy device is covered with tiny diamond crystals and is often referred to as a "burr". Once the atherectomy device is at the plaque buildup, it can rotate up to 150,000 rpm (revolutions per minute), gently eliminating the accumulation.
Under local sedation, the patient won't feel any pain or discomfort as the rotational atherectomy progresses. Vascular specialists use rotational atherectomy to eliminate calcified or hardened plaque.
Orbital Atherectomy
This is similar to a rotational atherectomy procedure. An orbital atherectomy utilizes a device known as the Diamondback 360° Orbital Atherectomy System™. This relatively new atherectomy device features an orbiting diamond-coated crown that can go frontwards as well as backwards, which makes it quite different from rotational atherectomy that can only move forward. Both rotational and orbital atherectomy treatments have similar objectives and eliminate plaque completely from the artery.
Directional Atherectomy
Similar to the other three treatments, directional atherectomy utilizes a tiny catheter that is navigated through the arteries towards the blockage. The atherectomy device consists of a cup-shaped cutter within a housing unit along with a small balloon. The cup is used to collect the excess plaque and the shaver cuts away the buildup along with arterial walls.
Benefits of An Atherectomy Procedure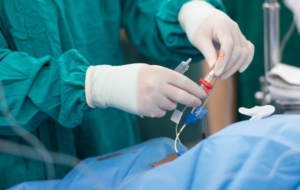 Peripheral artery disease is a serious, potentially-life threatening and progressive condition that will only get worse over time. Eliminating plaque buildup and opening narrowed arteries can have an immensely positive effect on your overall health, mobility, and independence. If you're considering an outpatient atherectomy procedure, it's important to know the numerous benefits it offers patients, such as:
Bypass a long hospital stay or recovery period.
Removes plaque from the arteries compared to angioplasty where it uses a stent to open narrowed arteries.
Eliminates highly calcified plaques, where a stent cannot be used.
Offers less overall risk when compared to surgical procedures to treat PAD.
Avoid post-op stitches and general anesthesia.
Anticipate a lower risk of infection and less pain during recovery than a surgical PAD procedure.
Takes less than two hours from start to finish and allows patients to return to the comfort of their own home to recover. Minimally invasive atherectomy procedures allow patients to get in and out with convenience as well as ease. This motivates many individuals with peripheral artery disease who are avoiding treatment, to finally get the help they need.
At USA Vascular Centers, we want patients to know that getting treatment for their painful symptoms and decreased mobility is attainable. Unlike surgery that can lead to a long, painful recovery, patients can expect quite the opposite with an atherectomy procedure.
Minimal Risks of An Atherectomy Procedure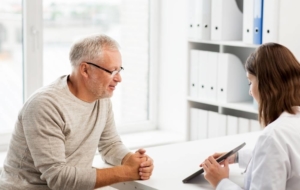 While there are quite a few benefits of choosing to undergo a non-surgical, outpatient atherectomy procedure, like any medical treatment, there are always a few risks. A few potential risks of of undergoing an atherectomy treatment include:
A blockage could form, made up of the dislodged debris following the atherectomy procedure, within the artery immediately after treatment. Although, your vascular specialist will monitor you carefully after your atherectomy procedure to ensure this does not happen.
In extremely rare occasions, perforation of the blood vessels could occur. Vascular specialists train to avoid these situations.
Plaque accumulation and blockages can return within the months or years following treatment; therefore, medications or lifestyle changes may need to be implemented.
An atherectomy procedure may need additional stents to ensure a successful, long-term solution for moderate to severe PAD.
When compared to surgical procedures for PAD, atherectomy offers little to no risk. Your vascular specialist will go over all potential risks and complications before the day of your atherectomy procedure. Ultimately, we want to make sure you feel comfortable and confident in your treatment choice. That is why we pride ourselves in providing transparent information and answers when it comes to deciding which option is right for you.
How Is PAD Atherectomy Different from Angioplasty?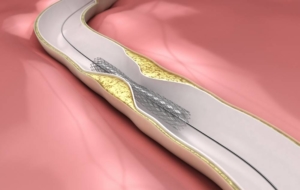 We've got you covered if you're wondering about the differences between an atherectomy procedure and angioplasty. The main differences between these two treatments for peripheral artery disease are:
Atherectomy procedure: Is a non-surgical, outpatient treatment that physically removes plaque from the arteries using a laser or tiny rotating blade. There are four atherectomy types which utilize different tools.
Angioplasty treatment: An outpatient, non-surgical procedure that typically implements an inflatable balloon that pushes the plaque towards the arterial walls, then leaves a mesh stent behind that keeps the artery open and clear. Different types of angioplasty exist; therefore, your specialist will determine which is best for your individual situation.
Both treatments are minimally invasive, utilize image-guided tools such as live ultrasounds or a fluoroscopy machine, can be performed in an outpatient setting, and allow patients to avoid a long, painful recovery as well as general anesthesia. They are both extremely effective solutions to treat moderate to severe PAD; therefore, your vascular specialist will guide you through which treatment could be best for your unique situation.
Finding an Atherectomy Treatment Center Near You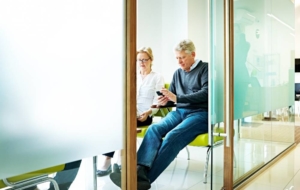 Whether you choose a surgical or non-surgical treatment for your peripheral artery disease, it's important to start your journey as soon as possible. If you are trying to decide between a minimally invasive angioplasty or atherectomy procedure, we offer both at USA Vascular Centers and are happy to help guide you down the right path. Our experienced vascular specialist provides patients just like you with the resources they need to make an informed healthcare decision. If you're not sure you have PAD, we can provide a complete diagnosis utilizing tests like angiograms and ankle-brachial indexes. You can rest assured that we will be with you every step of the way from your initial consultation to after recovery.
Give us a call at 888-773-2193 or conveniently schedule online. Looking to talk with one of our vascular specialists from the comfort of your home? No problem! We offer telemedicine consultations.
Don't wait for your symptoms or mobility to worsen. Schedule your initial consultation and take the first step to a healthier, more active life today.
Dr. Yan Katsnelson is a philanthropist, business owner, and highly skilled cardiac surgeon. He is the Founder and CEO of USA Vascular Centers, which is part of USA Clinics Group, the parent company of USA Fibroid Centers, USA Vein Clinics, and USA Oncology Centers with more than 90 facilities nationwide. Dr. Yan has established himself as a strong advocate for accessibility and affordability of the most advanced medical care close to home, and his mission is to create a positive experience for each patient with compassionate, personalized, and expert care.