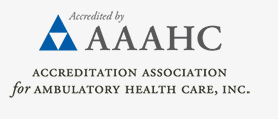 Northbrook, IL, November 16, 2020—USA Clinics Group is proud to announce that its USA Vein Clinics, Vascular and Fibroid Centers at 404 2nd St Pike in Southampton, PA, have achieved full three-year accreditation through the Accreditation Association for Ambulatory Health Care (AAAHC).    
 AAAHC Accreditation is the leader in ambulatory health care accreditation with more than 6,100 organizations accredited. Achieving accreditation signifies that USA Clinics Group has met the highest national standards of quality healthcare and superior patient care.    
"We are proud to be awarded AAAHC Accreditation in the Southampton area, which demonstrates our commitment to providing the highest level of quality care to our patients," said CEO and Founder Dr. Yan Katsnelson. "Our team of experienced vascular and fibroid specialists has received national recognition for providing the most advanced and comprehensive care to patients close to home."    
 The new USA Vascular and USA Fibroid Centers join the recently opened USA Vein Clinics in Southampton. All three are in the Pike Plaza Shopping Center, about 17 miles north of downtown Philadelphia.    
 The USA Group has consistently received national recognition for providing comprehensive evaluation and an evidence-based approach to treatment that results in consistent and better patient outcomes.    
 Same-day appointments are available. For more information to refer a patient or schedule an appointment, contact the USA Vein Clinics at 888-768-3467; USA Fibroid Centers at 855-615-2555, and USA Vascular Centers at 888-773-2193.    
About USA Vascular Centers   
USA Vascular Centers is a unique network of facilities dedicated to the non-surgical treatment of multiple conditions, including Peripheral Artery Disease (PAD), fibroids, and spinal fractures. At USA Vascular Centers, highly trained vascular surgeons with decades of experience offer minimally invasive treatments. For information or to refer a patient, visit www.usavascularcenters.com.   
About USA Vein Clinics    
 USA Vein Clinics is the largest network of vein treatment centers in the United States, with over 166 clinics. Their team of experienced cardiovascular surgeons offers various minimally-invasive treatments to meet individual patient needs, including endovenous laser therapy, Clarivein ®, and sclerotherapy treatments. Most patients return to their normal activities the same day. USA Vein Clinics accepts most insurance plans including Medicare. Patients are encouraged to call 888.768.3467 to schedule an appointment or speak to an insurance specialist. For more information, visit www.usaveinclinics.com.    
  About USA Fibroid Centers     
USA Fibroid Centers' mission is to provide personalized, non-surgical treatment for fibroids using an advanced procedure called Uterine Fibroid Embolization (UFE). USA Fibroid Centers strives to raise awareness of UFE as a treatment option and encourage more conversation about fibroids. For more information, visit www.usafibroidcenters.com.